Saturday, June 20, 2009
I am off to the beach...
however, my bestie had an awesome post I think you might enjoy! :)
Mommara
sneak-peak!
Tuesday, June 16, 2009
Last night after "craft time" I made cupcakes for my team at work. I usually make what I would now consider to be H.U.G.E. cupcakes… (diets change everything, don't they?)
I adapted the recipe (used 1/3 cup of applesauce instead of oil) to make it healthier and instead of using a regular muffin pan… I used my mini-pan! And of course I had to calculate the calories!
About 80 per cupcake! Yummy!
Monday, June 15, 2009
I love craft time! Tonight I put together my first version of the happy meals that the kids will get at our wedding reception. They will include things that all of our young guests (8 kids, all under 8 years old) will hopefully enjoy. A few small toys, crayons and a wedding coloring book, and of course kid friendly food (juice box, apple dippers, a sandwich and cookies!)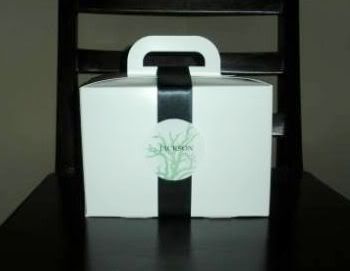 I picked up the boxes at
The Container Store
, the ribbon at
Michaels
, and I ordered the coral stamp (that perfectly matches our wedding invitations) from
SugarSkull7
on etsy. For the real-deal, I'll use nicer paper and mat it.