I fell in love with these framed monograms from
Jack and Lulu
. However, was not willing to pay the $50 price tag. So, not feeling totally confidant in my own abilities, I searched around for some additional info and found these inspirations.
Mind Your Manors
and...
KAKI
The Sassy Flip Flop
and... this girl will make them for you! How cool is that?!?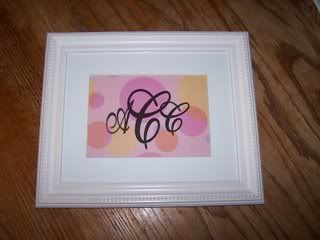 So my ego got all puffed up... "If these people can do this... so can I!". And so I did. and it was fun. and fast. and cheep.